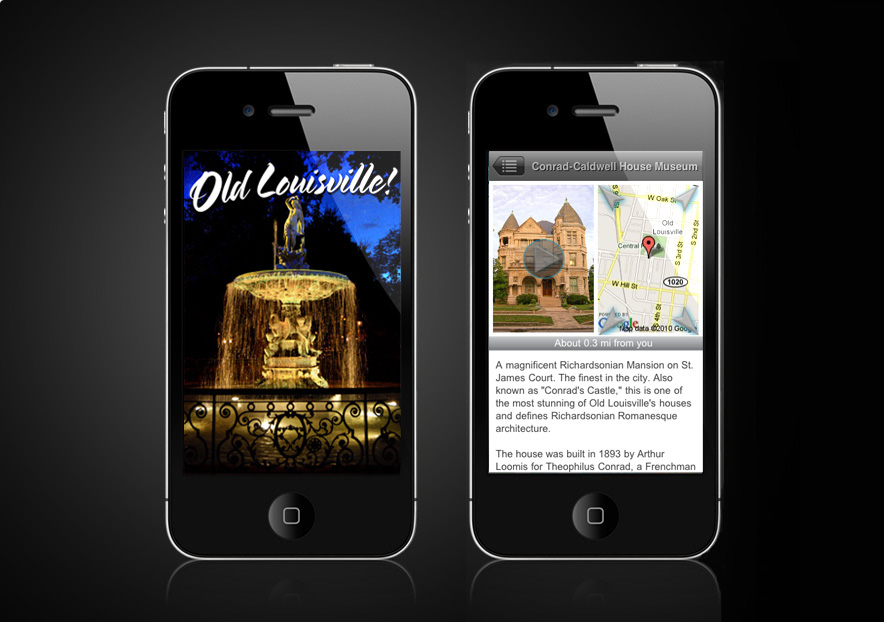 Historic Old Louisville Kentucky.
iOS and Android App no longer available.

Publisher is Out of Business
We're sorry to report that after five years the app is no longer available, as of late summer 2015. We are happy to announce that much of the same content, and much more, will be available on a new website to be launched in spring 2016.
Louisville's Preservation Districts
Old Louisville is a story of urban revitalization within the heart of a city. This neighborhood in north-central Kentucky has the largest collection of late-Victorian-era architecture in the USA. Old Louisville comprises the third-largest National Historic Preservation District in the USA, and many structures are also on the National Register of Historic Places. In addition to Old Louisville, Louisville's Historic Landmarks and Preservation District Commission has designated six other Preservation Districts in the city, which includes the Limerick neighborhood, to the immediate northwest of Old Louisville.


The Old Louisville smartphone and tablet Apps for iOS and Android
The smartphone and tablet App titled Historic Old Louisville Kentucky is a software application that may be purchased and downloaded on the internet from the Apple App Store, and iTunes Store, and used on any Apple iPhone, iPad, or iPod touch, and also on the Google Play site for the Android OS. The Old Louisville App features over 600 original photographs and 400 architectural entries that include tags that are used to filter categories to view homes, walking tours, restaurants, B&Bs, annual events, etc. and can also be sorted by street numbers, or street names. Each entry has an original photograph, an interactive Google Map, and a description that includes:
• Street address
• Name of property (if applicable)
• Year built
• Architectural style
• Original owner and profession (when available)
• Architect (when available)
• Brief description of architectural details
Individual entries in the App can also easily be emailed.
---

---
Also Included
• Four suggested walking/driving tours with descriptions, navigational directions, and maps.
• Over 600 original photos depicting the architectural beauty of the area that can also be played in a slideshow.
• Descriptions of Victorian architectural styles, showing over thirty different examples.
• Annual Old Louisville events with dates and locations.
• History of Old Louisville and St. James Court.
• Highlights of other historic places in the immediate area.
• One click to share comments to the author, or share entry with others.
• Links to business web sites.
• Approximate distance from your current location to each entry's location, either walking or driving, along with an estimated cab fare.
• Information useful to both residents and visitors of Historic Old Louisville.

The descriptions of Old Louisville Architectural Styles alone makes this App a valuable learning tool and handy reference for associating the names with the styles of Victorian era architecture. If you've lived here all your life or are just passing through town, if you love Old Louisville, or heritage destination tourism, you'll love this app! If this App does no more than to increase general awareness of Old Louisville architecture it will have accomplished one of its major objectives.

An iPhone, iPad, or iPod touch with iOS 3.1 or later, and iTunes account, or any smart phone using Google's Android OS, and an internet connection are required to purchase, download, and use this App.
---

---
App Updates
If you would like your Old Louisville home included in the next update, please send your home's address and historic information here. Version 2.0, was released in the spring of 2014 and features many more properties and new features. Future updates will include historic properties in other parts of Louisville. Updates are free once you have purchased the App.

About The Author
A graphic designer and resident tour guide of Louisville, John Paul has focused his passion toward the promotion of Old Louisville since '92, and has provided graphic and web design assistance to the Old Louisville Chamber of Commerce, the Old Louisville Neighborhood Council, and many neighborhood associations. In addition to much of the writing and editing, he shot all of the original photography exclusively for this App.
Credits
Collabrative credit is given to previous Old Louisville Tour Brochure Committees, previous Holiday House Tour homeowners, the Old Louisville Neighborhood Council, Shawn Fields Williams, author of "Belgravia Court - Louisville's Premier Walking Court", and all the others for their knowledge and contributions throughout the decades for their documentation that was compiled for this App and the updates.

This App was edited by johnpaul / design with publishing partners Sutro Media, San Francisco, California and became available the first week of December, 2010, the same week the Beatles catalog became available on iTunes. The following year the App became available for Android.
Learn More
Want to learn more about Old Louisville history? Download the 1855 Colton Louisville-New Orleans Map, and download the 1884 Atlas of Louisville - Old Louisville and Limerick, to see maps of what the neighborhood looked like during the Southern Exposition. An older map from 1873 shows how the original farmland properties as they were converted to a grid, for Louisville's first subdivision, the Southern Extension. The 1858 Bergman map shows entire Louisville area in great detail.

The Old Louisville Residential District was added as a National Historic Preservation District by the National Park Service on 2/7/1975. See the application text and photos forms here. See the outline of the Preservation District on a map here. Download the Louisville Landmarks Commission's Old Louisville Guide PDF here. Download the Old Louisville/Limerick TNZD map here.

Thank you for your interest Old Louisville and the smartphone App. Contact.







on Square Market

All content © 2013 john paul design: johnpaul/design